Submit/Update Profile

Search the Network:
AN News
Obituary: Patrick "Pat" Wayne Arceneaux - 1961-64 Track & Field, Coach 64, 79-84, 08-12 - 4/9/2021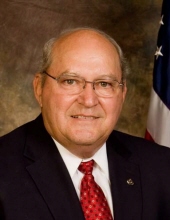 December 28, 1942 - April 9, 2021ecember 28, 1942 - April 9, 2021
BREAUX BRIDGE – A Mass of Christian Burial will be celebrated at 11:00 am on Thursday, April 15, 2021 at St. Bernard Catholic Church for Coach Pat Arceneaux, 78, who passed away on April 9, 2021 in Houston, TX.

Fr. Garrett McIntyre will officiate the Funeral Mass. Burial will take place at St. Bernard's Cemetery No. 2 in Breaux Bridge.

Visiting hours will be observed from 5 pm - 9 pm on Wednesday, April 14, 2021 at Pellerin Funeral Home; a rosary will be prayed at 7 pm by the Knights of Columbus; visitation will resume on Thursday, April 15, 2021 at 8 am until 10:30 am.

A Lafayette native, Patrick graduated from Teurlings Catholic High School in 1960 and from USL in 1965 and in 1972 (Bachelor's and Master's in Education). Pat was a state javelin champion in high school and a "walk on" at USL. He went on to set a university record in the javelin. In 1964, he was elected team captain and was awarded USL's track and field outstanding performer. After graduation, Pat coached at Cathedral Carmel Catholic High School for 6 years. His career at Breaux Bridge High School span 26 years where he coached over 35 individual state champions, including three All-American javelin throwers. In 1992, he was named Boys Track Coach of the Year. In 2000, his boy's cross-country team won the state championship, the first team title in BBHS history. He was the co-founder of the Breaux Bridge Youth Football League. Pat coached his son, Troy, to four individual state titles in high school and two Jr. Olympic national decathlon titles. He retired in 2005, then joined the track and field coaching staff at USL where he coached Elton Slater, an All-American long jumper. Pat was a charter member of the LA Track and Field Coaches Association and was awarded their Lifetime Achievement Award in 2005. In 2017, he was awarded the Foster Rogers Award for over 50 years of dedication to the UL Cajun track and field program. Pat also served on the St. Martin Parish Republican Committee.

Patrick was a Lay Minister at St. Bernard Catholic Church for 45 years and a member of the Knights of Columbus for 45 years where he served as Grand Knight and chaired numerous fundraisers for charity. He was a volunteer at the St. Bernard/St. Francis Food Pantry. He was a pro-life advocate. He enjoyed spending time in his yard, dancing, sports events, and tailgating with family and friends. Pat especially enjoyed family time. He lived a life of service mentoring student athletes, volunteering, and caring for his fellow neighbor.

Pat is survived by his beloved wife, Josie Brown Arceneaux, of 55 years; his daughter, Lisa Marie Arceneaux Druzbik and her husband James; his son, Troy Anthony Arceneaux and his wife Denise; his grandchildren, Camille Arceneaux, Caroline Arceneaux, John Patrick Druzbik, and Tyler Druzbik; brothers Clyde (Dolores), Fernest (Rosie), and EJ (Wanita); sisters, Eva Dell Guidry, Alice Guidry (Gerald), Joan LeVasseur, Shirley Vincent, and Linda Suir (Burton); sisters-in-law, Barbara Dugas (Wilmer) and Charlotte Arceneaux Guilbeau; numerous nieces and nephews.

He was preceded in death by his parents, Edgar and Letha Trahan Arceneaux; brothers Harry Arceneaux (Verna Mae), Curtis Arceneaux, and Stanley Arceneaux; sisters, Enola Quibodeaux, Gloria Hernandez (Travis), and Mary Thibodeaux (James); brothers-in-law, Cliff Guidry, Justin LeVasseur, and Carl Vincent.

Pallbearers will be Tony Courville (former student athlete), Shane Courville (former student athlete), Charles Derousselle (former student athlete), Dickie Dupuis (former student athlete), Coach Carl Lawson, and Dirk Thibodeaux (former student athlete).

Honorary Pallbearers will be Fernest Arceneaux (brother), William LeBlanc, Coach Carol Patin, Leo Satchez, Neil Theriot, and Wilson Thibodeaux.

Pellerin Funeral Home, 211 Berard St., Breaux Bridge, LA 70517 (337-332-2111) is in charge of the funeral arrangements.

Athletic Network footnote by Ed Dugas.
Click here for Pat and his 1963 Track & Field teammates.
Click here for Pat's Athletic Network profile.

Click here for Pat receiving the Foster Rogers award with his family on the UL Track in 2017.

Appreciation is extended to Jodie Thibodeaux for information on Pat's passing.

---
Send this Page to a Friend!
Print Page