Submit/Update Profile

Search the Network:
AN News
Former Basketball: Bo Lamar Featured on Cover of Tigerland and in today's Wall Street Journal
David M. Shribman, Wall Street Journal, Jan. 19, 2019
Book Review of Tigerland by Wil Haywood.

In addition to the book review by David Shribman, Penguin Random House provides the information below on the website.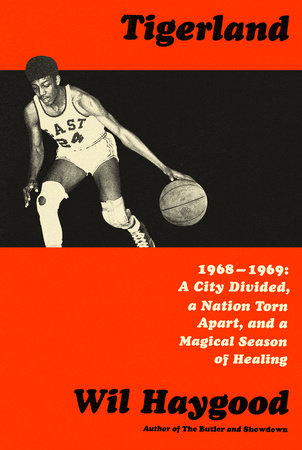 About Tigerland
From the author of the best-selling The Butler–an emotional, inspiring story of two teams from a poor, black, segregated high school in Ohio, who, in the midst of the racial turbulence of 1968/1969, win the Ohio state baseball and basketball championships in the same year.

1968 and 1969: Martin Luther King Jr. and Bobby Kennedy are assassinated. Race relations are frayed like never before. Cities are aflame as demonstrations and riots proliferate. But in Columbus, Ohio, the Tigers of segregated East High School win the baseball and basketball championships, defeating bigger, richer, whiter teams across the state. Now, Wil Haygood gives us a spirited and stirring account of this improbable triumph and takes us deep into the personal lives of these local heroes: Robert Wright, power forward, whose father was a murderer; Kenny Mizelle, the Tigers' second baseman, who grew up under the false impression that his father had died; Eddie "Rat" Ratleff, the star of both teams, who would play for the 1972 U.S. Olympic basketball team. We meet Jack Gibbs, the first black principal at East High; Bob Hart, the white basketball coach, determined to fight against the injustices he saw inflicting his team; the hometown fans who followed the Tigers to stadiums across the state. And, just as important, Haygood puts the Tigers' story in the context of the racially charged late 1960s. The result is both an inspiring sports story and a singularly illuminating social history.
Athletic Network Footnote by Dr. Ed Dugas.
Bo Lamar went on to be an All-American at USL and twice led the NCAA college division is scoring his last two years (1969-73).
He played professionally in the NBA after leaving the university, originally signing with the Milwaukee Bucks of the NBA.
Lead information provided by Howard Humphreys, 1957-61, who held the Blackham Coliseum single game scoring record of 40 points, until broken by Bo Lamar.
Click here for Howard's Athletic Network Profile.


---
Send this Page to a Friend!
Print Page